PTFE Fiberglass Fabric
consists of different grades of glass fiber and PTFE resin compounded by the normal and ultra wide coating machine. Three colors can be produced by us: brown, black and white.
With the great improvement of technology, the thickness we produce is becoming more and more thinner. Actually, we can even produce the 0.04mm and 0.05mm fabric which is often used in some electric industry.
PTFE Fiberglass Fabric
possesses the advantages of smooth surface, high intensity, low elongation coefficient, good chemical resistance, good abrasion resistance and high temperature up to 360 Celsius degree.
It is usually used as oven liners intermediate to cook some food and bread. Also, it can be used as various belt such as conveyor belts, fusing belts and sealing belts. Finally it is used as the covering or wrapping material in petroleum, insulating material, hi-temp resistance material in electrical industries, desulfurizing material in power plant etc.
According with the way of coating, it can be sorted into many categories as the below: double-faced coating, single-faced coating, ventilate coating, static resistant coating. As a result, we put them into the different grades:
1. General industry grade: it is made of the inexpensive PTFE resin into the inexpensive fiberglass, so it may be a little shorter in lifetime;
2. Standard grade: it is made from imported material. It features of more smooth surface better non-viscidity. It has better predominance when used as plastic module separating, and separating patch, gasket, separating module of some other products.
3. Food grade: the surface is smooth, non-stick, heat resistant, easy to wash, and it can be used more safely and conveniently in the food industry;
4. Static resisting grade: Its electric conduction can reach up to ten to the 6th power, which makes them widely used in electronic industry, plastics industry, textile industry, printing industry and etc.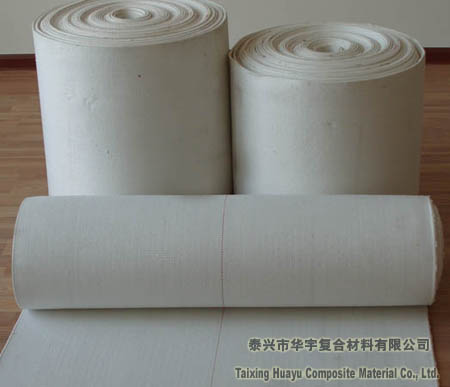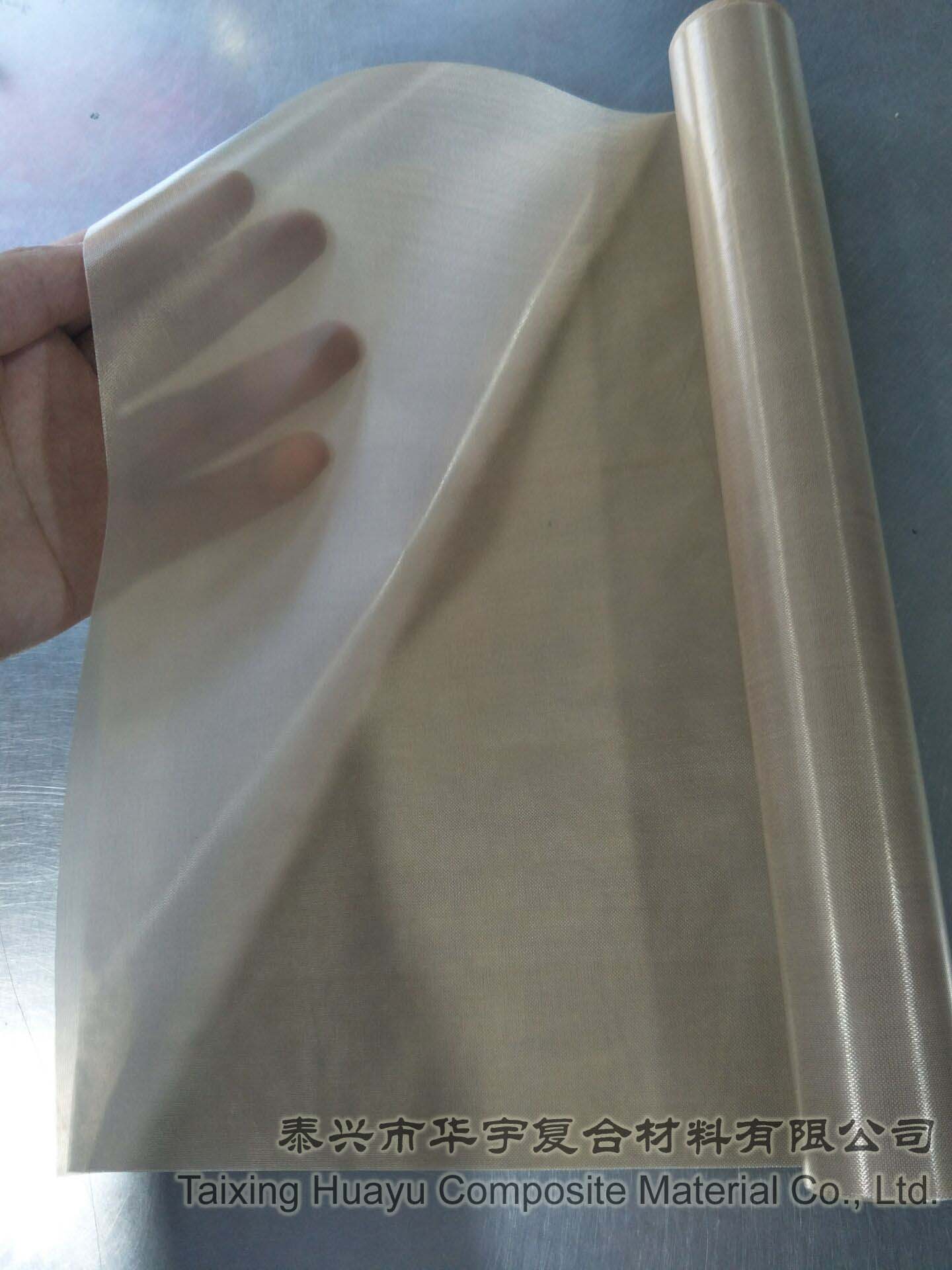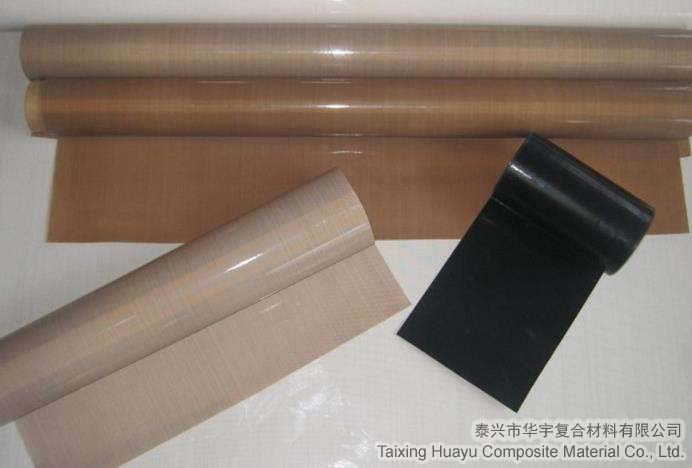 Specifications of
PTFE Fiberglass Fabric
:
Item No
Color
Thickness
Max width
weight
Tensile strength
Temperature
HY-F004Z
brown
0.04
1250mm
56 g/m²
90/120N/cm
-140 to 360℃
HY-F005Z
brown
0.05
1250mm
78 g/m²
100/120N/cm
-140 to 360℃
HY-F008Z
brown
0.08mm
1250mm
165g/m²
130/120N/cm
-140 to 360℃
HY-F008H
black
0.08mm
1250mm
170 g/m²
130/120N/cm
-140 to 360℃
HY-F008H
black
0.08mm
1250mm
185 g/m²
130/120N/cm
-140 to 360℃
HY-F013Z
brown
0.13mm
1250mm
260 g/m²
220/190N/cm
-140 to 360℃
HY-F013H
black
0.13mm
1250mm
275 g/m²
220/190N/cm
-140 to 360℃
HY-F013B
white
0.13mm
1250mm
275 g/m²
220/190N/cm
-140 to 360℃
HY-F018Z
brown
0.18mm
1250mm
395 g/m²
330/250N/cm
-140 to 360℃
HY-F018HF
black
0.18mm
1250mm
415 g/m²
330/250N/cm
-140 to 360℃
HY-F025Z
laminated cloth
brown
0.25mm
2800mm
490 g/m²
410/330N/cm
-140 to 360℃
HY-F025HF
black
0.25mm
2800mm
510 g/m²
410/330N/cm
-140 to 360℃
HY-F035Z
brown
0.35mm
3200mm
<660 g/m²
560/445N/cm
-140 to 360℃
HY-F035HF
black
0.35mm
3200mm
680 g/m²
560/445N/cm
-140 to 360℃
HY-F040Z
brown
0.40mm
3500mm
780 g/m²
820/500N/cm
-140 to 360℃
HY-F040HF
black
0.40mm
3500mm
820 g/m²
820/500N/cm
-140 to 360℃
HY-F065Z
brown
0.65mm
4000mm
1150 g/m²
1080/750N/cm
-140 to 360℃
HY-F090Z
brown
0.90mm
4000mm
1550 g/m²
1500/1250N/cm
-140 to 360℃
HY-F090H
black
0.90mm
4000mm
1650 g/m²
1500/1250N/cm
-140 to 360℃